Addiction is a serious, chronic illness involving compulsive behaviors, most often around drugs or alcohol. These behaviors are difficult to control, so people who struggle with addiction often abuse drugs more and more as the disease progresses. They may start with occasional use because they enjoy it, but soon their brains become dependent on the presence of these substances. They then need the drug to feel normal. At the same time, they develop a tolerance for their original dose, so they may abuse more of the drug to get high. This progression of taking larger doses, more often, is a sign of substance abuse.
Other Symptoms of Addiction Include:
Worrying about how much of the drug is left and maintaining a consistent supply
Experiencing intense cravings when the drug is not around
Thinking about the next dose or taking it early
Failing to meet obligations in various areas of life
Changes in sleeping and eating habits, along with other behaviors
Changes in grooming habits, leading to poor hygiene
Loss of job or financial instability
Spending a lot of money and time getting the drug
Stress on relationships
Performing risky activities, which can lead to physical harm and legal problems
People who are in a relationship with someone who is struggling with addiction – a friendship, a parent/child relationship, or a romantic partnership, for example – will find that the relationship is strained. The person in active addiction may not pay attention to the relationship, or they may rely on that relationship to help them get money, drugs or help with going someplace to get drugs. They also may seek out assistance with covering up a hangover, drug abuse, or paraphernalia. It may seem like the person is using the relationship for their own means and that they do not love you anymore.
This is far from the truth. It is important to know that loving someone who is active addiction is challenging. Even if it seems like they don't care, your relationship is still important to them. In fact, their care for you and others may be what prompts them to seek help.
What Does It Look Like to Try to Love a Person in Active Addiction?
A survey conducted in the United Kingdom found that romantic partners' happiness changed as the rate of drug abuse changed. People whose partners occasionally used drugs reported their happiness between seven and eight out of 10 on a happiness scale. However, women who were in relationships with a person who continually abused drugs reported that their happiness had fallen to three out of 10. Around 56 percent of the respondents reported that they would not stay in a relationship with someone abusing substances because of the stress.
Signs That a Relationship Is Begin Strained By Substance Abuse Include:
Several, recurring arguments about how much alcohol or drugs the person has consumed
Arguing about staying out late or avoiding home to use drugs
Having to cover for the person because of their substance abuse, such as calling into work or school and telling them that the individual is sick
Drinking and using drugs are some of the few things partners do together
Either partner abuses substances to show affection
No one outside the relationship knows about the substance abuse problem
Episodes of domestic violence, including "angry touching" when either party has been drinking or using drugs
Addiction and Its Related Behaviors Are Not a Choice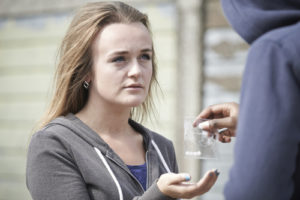 One of the biggest problems in relationships in which someone is struggling with addiction is deceit. Someone who is addicted to drugs or alcohol often lies about how much of a substance they have consumed. They may hide bottles or drug paraphernalia, cover up smells, make excuses for their whereabouts, and become angry or make up an answer when confronted with the problem. 
This is a compulsive behavior that occurs alongside drug and alcohol abuse, and it is not caused by a lack of love in the relationship. It is very hurtful that the person's behavior does not match their true feelings, but addiction is a chronic illness that changes structures in the brain, and the person is not able to exercise self-control in many scenarios.
You may be concerned that a person struggling with addiction does not love you anymore and will always prefer to use drugs. While they may be unable to control their behavior without help from addiction treatment specialists, the person still loves you.
When You Love Someone Who Is Living With an Addiction, Keep the Following in Mind:
Their addiction is not about you, and you did not cause it.
No one plans to become addicted to substances.
They do not choose to return to the substance over and over; they have no control over their behavior as it is a compulsion.
Deceit is part of the addiction.
You cannot fix them, although you can encourage them to make healthy choices.
Going to rehabilitation does not mean they have chosen to stop abusing drugs. It is the beginning of the process of recovery.
Encouraging someone you love who is living with addiction can be tricky. You do not want to berate them or make them feel guilty because that may cause them to turn to the substance to feel better. Consider working with a counselor, therapist, doctor, or intervention specialist to perform an intervention, which requires planning to be effective. This can be a great way to show you love the person and want them to be healthy and happy. 
People who abuse addictive substances are still capable of love, and they may deeply love their family members and friends. It isn't a lack of love that leads them to abuse substances. 
They need comprehensive addiction treatment to effectively address the issues that led to their substance abuse. With the right help, they can restore damaged relationships and fully enjoy their loved ones.